Introducing RapidClick by Pilotmoon!
A very simple application that is in the App Store on Mac OSX is the RapidClick application by Pilotmoon Software, the application itself is relatively simple with just a box and a counter.
The counter allows you to select the amount of times you wish for the clicker to click per second, this is in the range of 1-10, 15 and 20 times a second. Within this, you then have the ability to activate the clicking by pressing the Start button. Once started it is quite difficult to stop if you haven't set a hot-key but we'll come onto that in a minute.
If you wish to set a hot-key to activate or deactivate the clicking then you must click the little cog on the top right of the miniature box (as seen below), this opens another feature menu with the ability to assign a hotkey. If you select the box and think of a command that isn't used by any other application. For example, I selected shift and T because I could not think of anything using this key-combination.
Moving onto how it looks and how efficient it is, the product is very efficient and I like the simplicity, it's styling for what a simple product it is.
Below I've included screenshots of both RapidClick menus the product includes: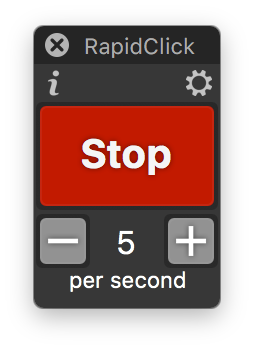 As you can see, to the left is the default RapidClick interface which allows modification using the plus and minus buttons to the amount of clicks per second that the user wishes to achieve.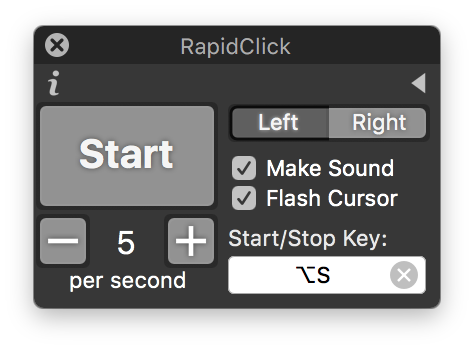 I found that the RapidClick menu was very un-obtrusive and allows you to move it around freely without really blocking any of the screens visibility that you usually get with applications of this nature. It also allows you to select between left or right click. While also being able to disable the slightly infuriating noise that constant clicking makes! (Thank you!) I wouldn't recommend disabling the flashing cursor just incase you happen to forget that it is enabled.
I've found that the RapidClick application is visible on-top of all screens, even full screen applications so you're never having to back out of an application or change view to disable the clicking, which is very useful.
Reading some of the reviews of the product on the App store, it does appear to have good support. I've never thankfully needed support with this product due to it's simplicity but it's great at what it was designed to do. Unfortunately, there is a price tag and I guess I wasn't really too bothered parting with $2.99 when purchasing this, although I have used it a lot so I cannot really complain!
If you have any further information or want to look further into the product it is available at Pilotmoon.com further support is also available via their website.
Kind regards,
Matthew